Chengdu is the capital of Sichuan province in China and a rising tourist attraction for foreigners. Although most of the people visit it to see the cutest animals on this planet – the pandas, Chengdu has much more to offer. From its incredible architecture to its delicious Sichuan cuisine, Chengdu should definitely be on your travel list when visiting China.
---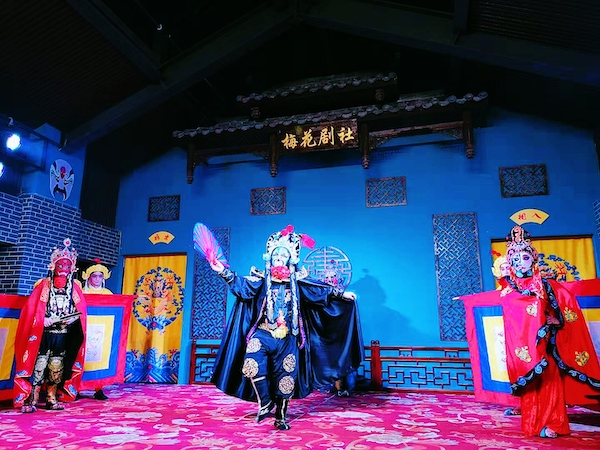 「 Be impressed by Magical Face Changing Opera」
You can't go to Chengdu without watching Sichuan Opera, is one kind of opera drama, and opera masks are the most important component element. Magical face changing is a visible stunt used to express the character's invisible mood in Sichuan Opera. Unlike western operas, where you have to dress fancy, here at the Sichuan Opera the atmosphere is a bit more relaxed. People are sitting on bamboo chairs and enjoying eating sunflower seeds meanwhile watching the opera.
---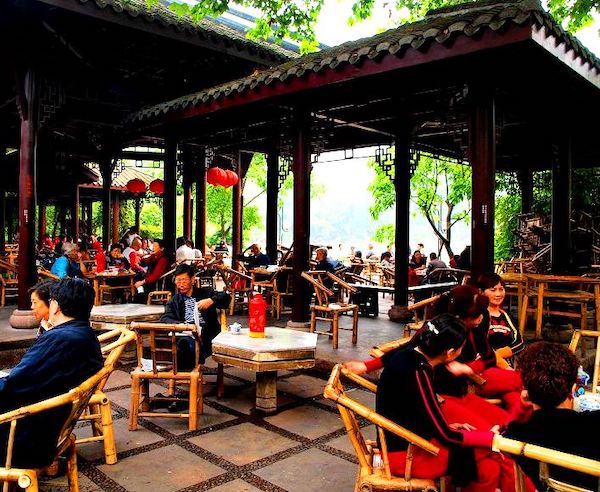 「Mingle with the locals at People's Park」
There is no better place to explore and discover the daily life of Chinese people than at the People's Park in Chengdu. This tranquil piece of nature is located near the center of the city, making it the perfect escape for locals and tourists alike.
While walking through the park, you'll come across people playing Mahjong, singing and even exercising. Elder people gather in groups and exercise on music in the park. If you want, you can join them. You may also find people enjoying tea at Tea House or taking a boat onto the lake.
---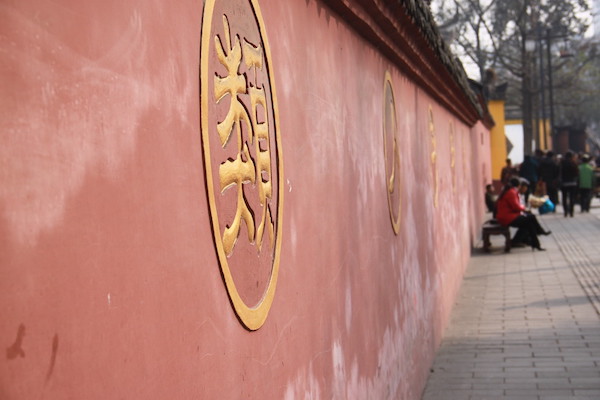 「Get lost between red walls at Wuhou Shrine」
Famous for its red walls, the Wuhou Shrine is perfect for those who are looking for photography places in Chengdu and, at the same time, want to learn more about the Chinese culture. The temple consists of several buildings, gardens and the famous red walls. Wuhou Shrine is dedicated to Zhuge Liang who was a politician, astronomer and diplomat 1800 years ago. Although the original temple was destroyed, it has been rebuilt according to the original blueprints.
Look at our Wuhou Shrine and Tibentan street walking tour:
Taoism and Tibetan Culture Walking Tour 
---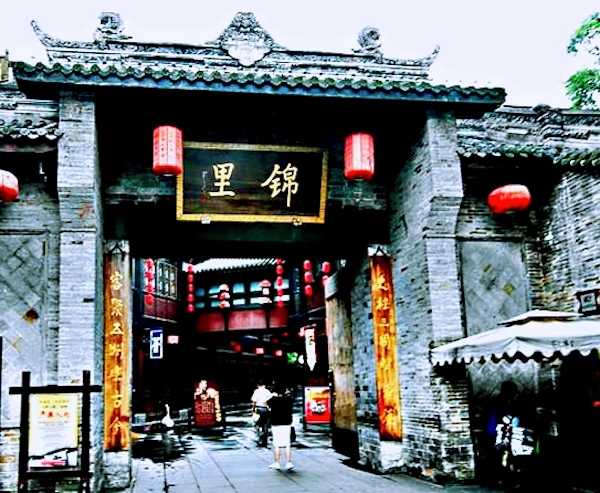 「Shopping in Chengdu」
Jinli Street is one of the popular places in Chengdu. With many souvenir shops, street food and amazing architecture. This street is quite twisted but don't worry – getting lost will only lead to discovering beautiful handicrafts shops and traditional restaurants. While visiting the Jinli Street, do not hesitate to try some of the local street food (Gou Zi, Liang Gao, Liang Fen, and Fen Zheng Rou) or buy some panda-themed souvenirs.
---
「Admire the Anshun Lang Bridge」
Anshun Lang Bridge was built back to the Yuan Dynasty (1271-1368) and is located on Jinjiang River. Highly recommend to see the beautiful bridge during the night, when the lights reflect into the river and it houses one of the most popular restaurants in the city. If you are looking for a romantic place to spend the evening while eating some traditional food, the Anshun Lang Bridge is the perfect place. Don't hesitate to take a walk along the river and enjoy the best views over the Anshun Lang Bridge in Chengdu.
---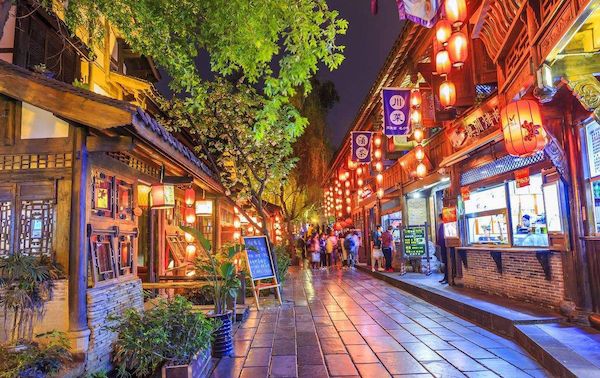 「Explore the Kuan Zhai Alley」
Kuan Zhai Alley, also called the Wide and Narrow Street, is one of the most important tourist attractions in Chengdu. These alleys are lined by renovated, ancient buildings and courtyards that were originally built during the Qing dynasty (about 1700 AD). Now, they have mostly been converted to shops, tea houses, hostels, bars, restaurants, and stalls for the selling of goods.
The Alley offers everything from local dishes to Sichuan opera performances to relaxing ear cleaning services. Yes, that is a real service! Don't hesitate to take lots of photos here since you will find beautiful hidden alleys with Chinese architecture and red lanterns.
---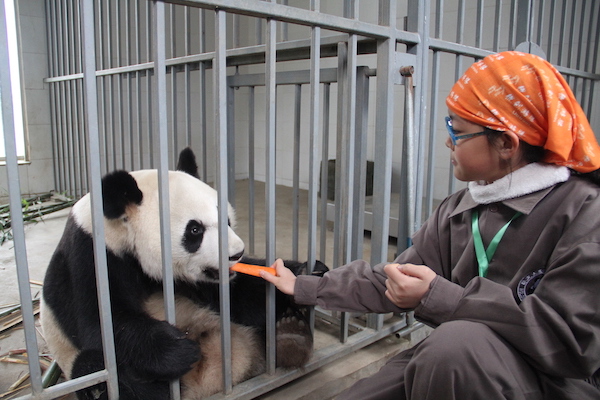 「Visit Chengdu Research Base of Giant Panda」
The Research Base of Giant Panda Breeding is not only the most important tourist attraction in Chengdu but also a place where you can discover more about these incredible creatures. Founded in 1987, the facility started with six giant pandas and today the facility is home to around 120 as well as other animals too (red pandas, black-necked crane and white crane). Inside the base, you can see these the pandas at different ages sleeping, eating, drinking, nursing, climbing trees, and playing with each other.
Look at our Panda Theme Tours:
Panda Base Volunteer Experience

Panda Base and Tea Hill Walking Experience

---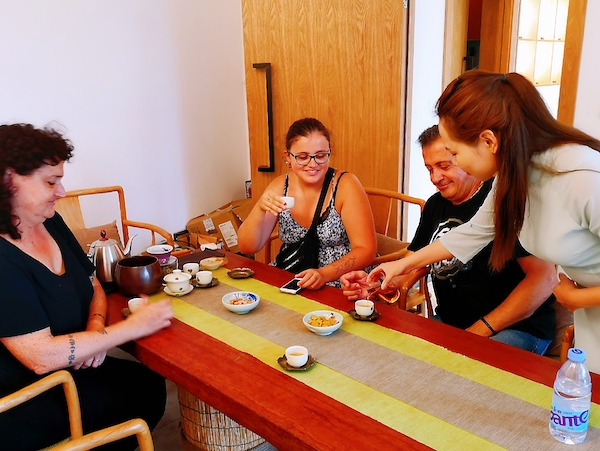 「Drink tea at a tea house」
Chengdu is one of the biggest tea producing regions in China so visiting this city without trying the tea is a blasphemy. The city is also renowned for its laid-back atmosphere where people really enjoy the more pleasurable things in life. Part of this is drinking tea with friends for hours on end.
One of the best places to drink tea is in the Culture Park in the outdoor tea garden that overlooks the lotus pond. You can also take a walk down the Jinjiang River, which wanders through the center of the city and stop in Baihuatan Park to rest with the locals and maybe even get an ear cleaning while drinking tea.
Look at our Tea Market Visiting tour and you will have the chance to try local snacks:

Tea Market & Snacks Half Day tour

---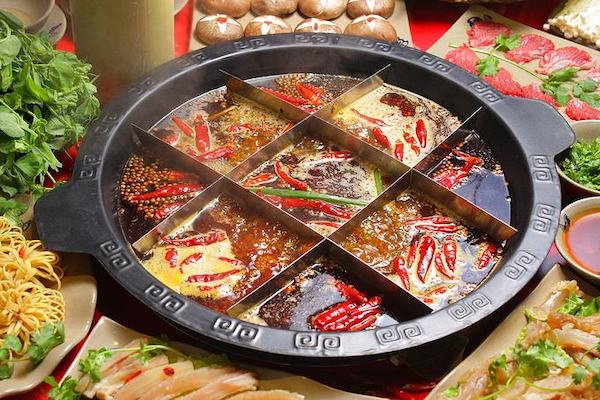 「Try spicy food:Hot Pot」
Chengdu is a perfect destination for foodie's adventure. If you want to experience the local cuisine, you should definitely try the Hot Pot. For those of you who have never heard of Hot pot, it is a dish that includes broth (filled with spicy oil and peppers), dipping ingredients (meats, vegetables, noodles, dumplings, and rice cakes), and sauces. You dip whatever you'd like into the broth and wait for it to cook. Once it is done, just dip it in sauce and enjoy. If you're like me and cannot handle anything spicy, they offer a non-spicy broth as well. Hot pot is usually shared with more than one person so it is more of a communal dining experience instead of a dish.
Look at our local cuisien tour:
Chengdu Food & Beer Night Tour

---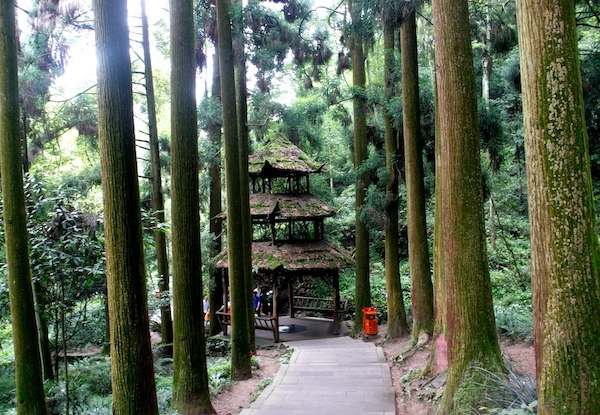 「Take a day trip outside Chengdu」
If you feel that you've seen it all in Chengdu, a trip outside the city is a great idea. You can visit the Dujiangyan,  the Qingcheng Mountain or Leshan Giant Buddah.
The Duijangyan Irrigation System is the oldest and only surviving no-dam irrigation system in the world and a wonder of Chinese science. This system plays a crucial role in draining off floodwater and providing water to more than 50 cities.
 Qingcheng Mountain, known as one of the four original birthplaces of Taoism in China, has one of the most famous Taoist temples. Reaching it is a bit difficult and it requires hiking, taking a cable car, a boat and a bit more hiking but the trip is worth it. The best way to miss the crowds is to head to the back-mountain entrance. Once you reach the top, you'll find a little restaurant where you can sample local greens, drink tea and gaze out across the lovely peaks.
The Leshan Giant Buddha is a 71-meters (233 feet) tall stone statue, making it the largest Buddha in the world and the tallest, pre-modern statue in the world. This UNESCO World Heritage site should be at the top of your list of things to see! The statue is carved out of a cliff face of Cretaceous red sandstone that lies at the convergence of the Min and Dadu River.
What making this site unique is that you can get a few different perspectives of the Buddha. There are stairs for visitors to climb up near the head of the Buddha or down towards its feet. Each viewpoint is unique and worth seeing!
Look at our day trip outside Chengdu:

Panda Base & Mt. Qingcheng Tour

Dujiangyan Irrigation Project & Mt.Qingcheng Private Tour