As one of the China's best tourist cities, Guilin is famous for its natural scenery. It is located in Guangxi province, southwest of China. Most of must-dos in Guilin are about enjoying the landscape with mountains and rivers. According to the Chinese, Guilin has "the finest landscape under heaven" and the surrounding scenery has inspired Chinese landscape paintings for centuries. It even features on the Chinese 20 Yuan banknote. The area is particularly famous for the Guilin mountains – spectacular karst mountains that surround the city and are often shrouded in mist.
Yangshuo is located about an hour south of Guilin. Once arrive there you feel like stepping into a painting: flocks of white herons fly overhead and local fisherman paddle along the Li River; the stunning karst rock formations surround you in 360 degrees for as far as the eye can see. This sublime little town is a bit of an anomaly because it has a vibrant backpacker community. In Yangshuo, there's an abundance of youth hostels as well as backpackers from all over the world.  There is so much to see and do in Yangshuo, it can feel overwhelming at first.  The area has amazing food, amazing culture, and most of all:  jaw-dropping scenery. 
---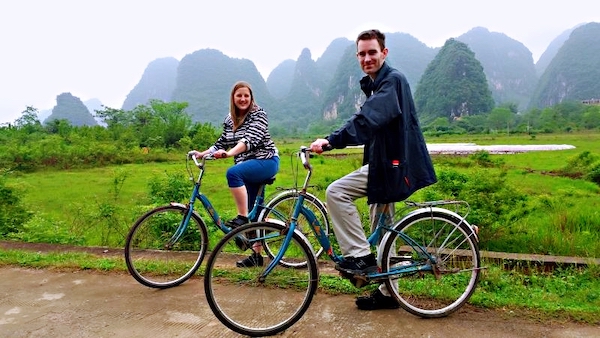 「Cycling in the Countryside in Yangshuo」
The best way to experience the beauty of Yangshuo is on two wheels. 
You will have an opportunity to enjoy the Ten-Mile Gallery, which is a section of the picturesque road in south of the town. As you bike through the countryside you see farmers working meditatively, cows lazily grazing along the river.  All the while you're encompassed by these incredible karst formations that fade off into the mist like something out of Avatar.  The scene was totally surreal.
Biking alongside the paddy field and orchards that surround the famous mountains will give a fascinating insight into life in rural China.
Look at our Cycling Tour and enjoy the relaxing riding experience in Yangshuo:
Yangshuo Day Tour with Countryside Cycling
---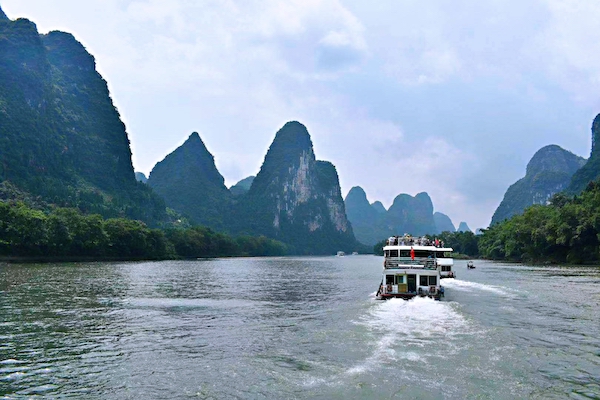 「Cruising on Li River」
Cruising from Guilin to Yangshuo, a water way around 80 km (50 miles), is also called Li River Essence Tour. It takes around 4-5 hours and along the way, the blue sky, green mountains with strange rocks and the clear water compose a beautiful painting.
Each boat on the Guilin river cruise has viewing decks on the roof and at the back. Remember to bring your camera, as you will want to take photos at every turn in the river.
---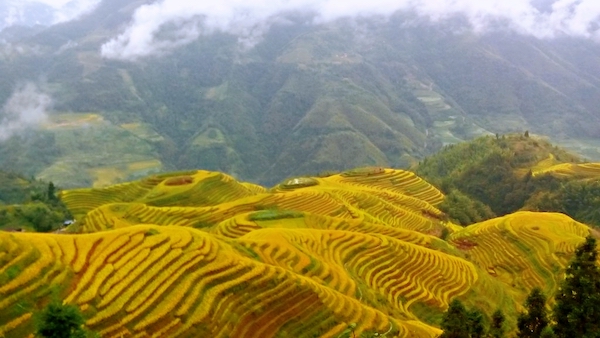 「Hiking on Longji Rice Terraces」
Longji Rice Terraces is a large-scale terraced field group in Longsheng, about 90 km (56 miles) from Guilin. Many people come here to enjoy the landscape and the sunrise view. In addition, several ancient minority villages consist of Zhuang and Yao nationalities inhabited here for hundreds of years. Thus, you can appreciate the landscape while experiencing the customs of ethnic minorities.
It has different landscape in different seasons. In spring, people start to irrigate, you can see the terraces are like mirrors. In summer, green pictures make you feel the vigor. In autumn, the golden terraces shining in the sunlight can be a really beautiful painting. In winter, the white winding terraces in snowy days will give you a different impression.
Look at our Longji Rice Terraces Tour and make your personalized experience:
Longji Rice Terraces Private Day Tour
Yangshuo 2-Day Private Tour with Longji Rice Terraces
Guilin/Yangshuo 3-Day Private Tour with Terraces

---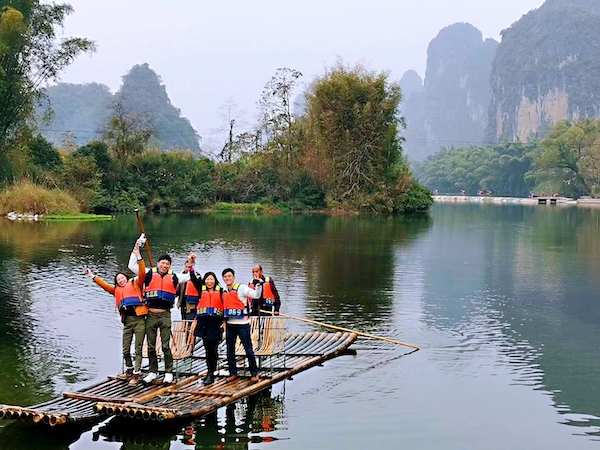 「Bamboo rafting on Yulong River in Yangshuo」
Rafting with bamboo on Yulong River is one of the fun things to do in Yangshuo, because through this way you can greatly view the pastoral scenery on both sides of the river. There are limpid waters, verdant hills, and fantastic farmlands. The whole scenic area is pristine with no intrusive modern construction and no urban hustle and bustle. 
Look at our Li River Bamboo Boat tour and have fun with water:

Yangshuo Day Tour with Li River Bamboo Boat Trip

---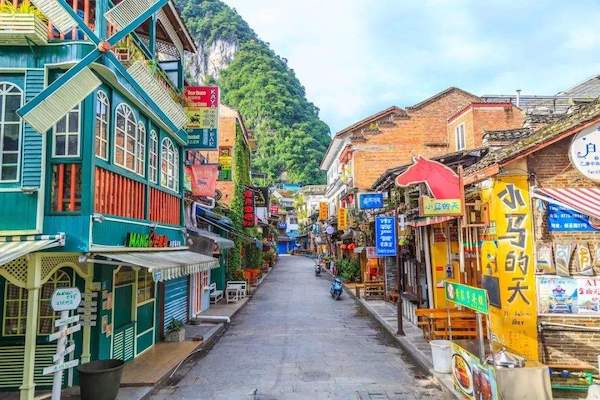 「Strolling around West Street in Yangshuo」
Speaking of the free things to do in Guilin, you cannot miss strolling around the West Street in Yangshuo,which is located in the center of Yangshuo town.
The origins of West Street date back over 1,400 years, walking its cobbles streets feels a bit like going back in time. The buildings along the streets are typical southern Chinese style and are about half restaurants/bars/hotels and half retail shops and stores. You'll find a great variety of souvenirs, hand crafted items, and snacks there. West Street is crowned as "the largest English Corner in China", and it's the perfect place to meet other backpackers, enjoy a beer, and try some local food.
---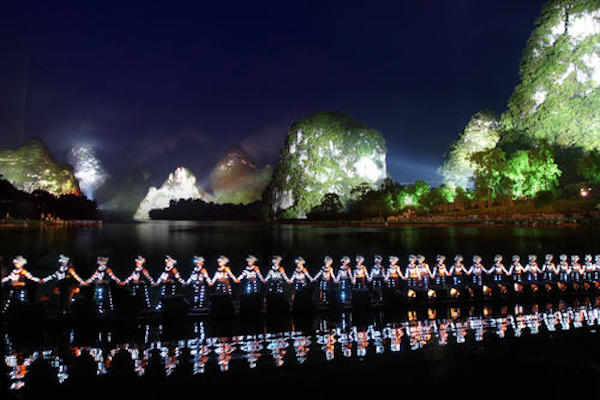 「Watching Outdoor Performance」
One of the must things to do in Guilin at night is to enjoy the performance of Impression of Sanjie Liu, in which over 600 performers on bamboo rafts moving in perfect harmony on the largest natural amphitheater in the world. The stage is a two square kilometers' area of Li River with the background of 12 peaks. The performance consists of seven chapters based on a folk legend of Sanjie Liu, a legendary female folk singer. You can enjoy the classical folk songs and watch the ethnic customs and locals' life, which will definitely leave you a deep impression.
---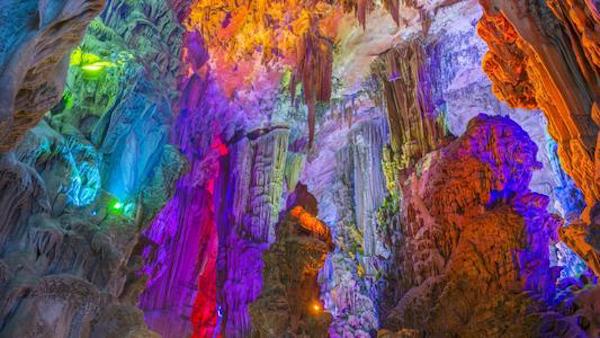 「Exploring the Reed Flute Cave」
Guilin is a beautiful city with typical karst landform and caves. Among them, Reed Flute Cave is the most splendid one to explore. The cave is like a magnificent underground palace containing a large number of exquisite stalagmites, stone pillars, stone mantles and stone flowers. Especially in the deep of cave, the Crystal Palace is like a fairyland under the colorful lights. You can wander through the cave at your leisure admiring the stalactites and stalagmites formations, which are beautifully illuminated in a multitude of colors.
Look at our private day tour with Silver Cave: